Indian Style Broccoli
---------------------
8 ounces broccoli, cut into pieces
1 tablespoon coconut oil
1 teaspoon mustard seeds
1 onion, chopped
1 teaspoon turmeric
1/2 teaspoon coriander
1 teaspoon garam masala
1 tablespoon lemon juice
2 tablespoons canned coconut milk
1 tablespoon shredded coconut
1/4 cup water
2 tomatoes, chopped (or canned pumpkin/butternut)

Steam broccoli for about 5 minutes. It should still be quite firm.

Heat oil in a frying pan, add mustard seeds. Stir while they pop. When the
popping has slowed turn down heat and add onion. Saute until tender.

Add remaining ingredients. Bring to a boil and add broccoli. Simmer until 
broccoli is tender (about 5 minutes).

By Nyteglori. Found at: Food.com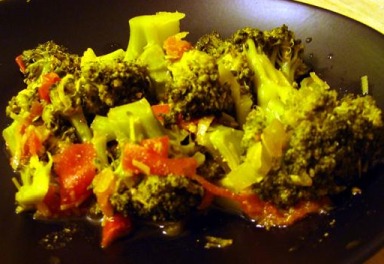 pattikay in L.A.