Pomegranate Walnut Relish
-------------------------
I use this technique all the time. Just buzz through some ingredients with
a cleaver and season them with olive oil, lemon juice. It's rustic and
incredibly tasty and looks great on a plate. This relish recipe of
pomegranate, walnuts, and parsley is a standout with seared sea
scallops.-Tyler Florence

This vibrantly colored sauce, relish, side--whatever you want to call
it--is a veritable jumble of pleasing tastes and textures and is marvelous
spooned atop sea scallops. But let's not stop there. Dollop it over white
fish. Dark meat chicken. Turkey cutlets.

1/2 cup whole pomegranate seeds (from 1 small pomegranate)
1/4 cup walnut pieces, toasted
1/4 cup celery leaves, chopped (optional)
1 tablespoon chopped fresh flat-leaf parsley
Grated zest of 1 small orange, preferably organic
3 tablespoons extra-virgin olive oil
1 tablespoon fresh lemon juice or pomegranate juice
Kosher salt and freshly ground black pepper

Toss the pomegranate seeds, walnut pieces, celery leaves, parsley, orange
zest, olive oil and lemon juice in a large bowl. Taste and season with salt
and pepper accordingly. Use immediately. Makes about 1 cup of relish.

© 2005 Tyler Florence. Found at Leite's Culinaria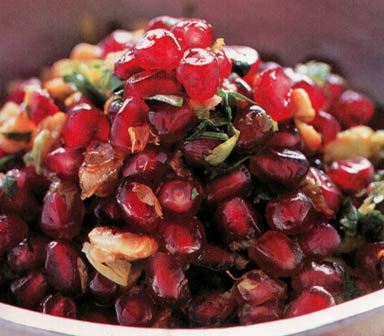 © 2005 Petrina Tinslay.