Beets Infused with Garlic and Olive Oil
---------------------------------------
4 medium beets, scrubbed clean, then covered with water and boiled on a
stovetop or zapped in a microwave until a fork stuck in the middle slides
in effortlessly. (I don't skin my beets). Slice the beets thinly and cut
each slice into quarters, then eighths.

In a small bowl, mix together:

1 tbsp extra virgin olive oil
4-5 cloves of garlic, crushed, preferably with a garlic press, or minced 
    really fine.
Juice of 1 lemon
Salt to taste

Pour the oil-garlic-lemon mixture over the beets and toss well.

Set aside for about half an hour for the flavors to infuse. Serve at room 
temperature.

From: Holy Cow! Vegan Recipes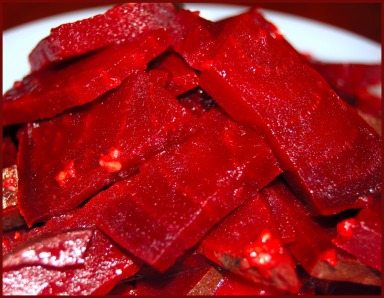 Vaishali at Holy Cow!